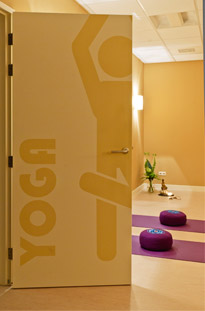 'yogas-citta-vrtti-nirodhah'
'Yoga eases the swirls of the mind and brings peace to the spirit.'
Patanjali: yoga sutra 1.2

'True yoga practice leads to a deep experience of peace, harmony and joy of life'
John Bernards teaches:
Hatha Yoga
H-Yoga (Yoga & Cancer)
Pranayama
Meditation
---
About John Bernards
Location
Agenda
---
'Yoga en Ayurveda' - YOGA MOOD season 2015-2016 .
Ayurveda means "Knowledge of Life". A holistic approach to the human being as part of creation: the pursuit of balance between body, mind and soul. In the second workshop in this series: 'KAPHA' is viewed by means of a range of yoga and breathing exercises the character of the Kapha constitution and investigated. And of course, as always, the workshop will conclude with a contiguous hour and a half delicious meal- this time an Ayurveda vegetarian lunch, prepared by our in-house nutritionist and mindful cook.
---
Yoga Weekend 2016: 'Yoga and the Four Wind directions'

Want to deepen your experience of yoga and taught by various yoga teachers?
You have no experience with yoga and want to learn that?
Do you need time for yourself to recharge your batteries and unwind?
Would you together with others enjoy a complete package in a cozy atmosphere?
Give yourself a yoga weekend in an inspiring and comfortable environment! By practicing Hatha yoga, visualization, meditation sounds and work on different parts of the body. Connect with yourself and each other. This is all done under the enthusiastic leadership of Katinka Veldhuizen, Sander Moerkens and John Bernards.
For more information
---
John Bernards YOGA MOOD regularly organizes an 8-weeks meditation course, with attention to the basics of meditation. Explaining what meditation is and what the obstacles and pitfallsare that you can come across.
In addition, students are handed tools to do your own meditation practice at home.
For more information
---
Classes are given at:
Fysiotherapie praktijk Caspar van den Broek
Hofstukken 102
5403 BW Uden
www.broekfysio.nl - get directions
Centrum 3C
Nieuwe Markt 3c
5401 HB Uden
www.centrum3c.nl - get directions